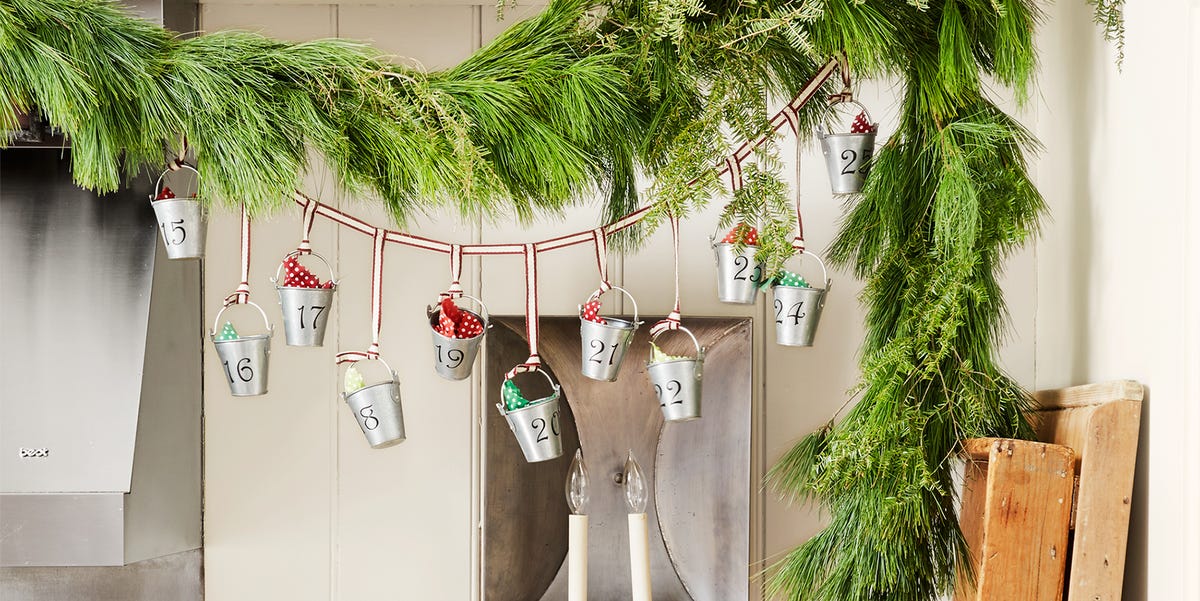 The lead-up to Christmas is half the fun of the holiday. Advent calendars help you count down the days—and sometimes reward you with a sweet treat—but instead of buying the same, store-bought version every year, try out one of these DIYs. You'll be able to reuse many of these over the years, and you'll be surprised at how creative you can get with them. Besides, they'll make the fun holiday tradition even more special. Whether you want something totally kitschy, or something a little more elevated, you'll find it in this round up of fifteen DIY advent calendar ideas.
1
Take-Out Fake-Out
This take-out box advent calendar is mesmerizing to look at and it's super easy to make. Get the tutorial at Studio DIY!.
2
Make It Out of Wood
Here's another great DIY advent calendar brought to us by Sugar and Charm. You'll just need some plywood, small tin cans, and a hot glue gun (and then goodies, of course).
3
Bag Lady
This advent calendar is definitely the prettiest a bunch of paper bags ever could look. We love the color coordination and grid layout. Get the tutorial at Tell Love and Party.
4
Add it to a Garland
Turn a kitchen garland into a advent calendar. Attach a ribbon across it and then hang little tin containers labeled with the day of the month and fill them with treats. Now that's our kind of giving tree.
5
Trim The Tree
This DIY wooden calendar can be reused every year, and is super fun to decorate. Add one ornament to the tree every day until Christmas. Learn how to make them from Julep.
6
Put it on the Mantle
Upgrade your advent calendar tradition with this DIY gingerbread version from Sugar and Charm. The little wooden houses are surprisingly easy to make and they're the perfect thing to line the mantle with.
7
Hang Your Stockings
These adorable mini stockings would be a perfect garland for your mantel or banister. Get the tutorial at The Crafted Life.
8
Use a Ladder
Instead of opening a flimsy cardboard box, hang up a DIY Advent calendar on a ladder or the tree. Decorated muslin craft bags conceal treats, toys, and messages from Santa—and you can fill them again next year, too.
9
Get Lit
Not only is this colorful strand of string lights amazing wall (or tree!) decor, but it's also an advent calendar. Learn how to make them from The House That Lars Built.
10
Felt Feels
This DIY advent calendar is so cheerful, we just may have to keep it up all year long (or at least through the dark days of winter). Follow the steps from Tell Love and Party to make your own.
11
It Takes A Village
A 3D advent calendar village can double as mantel decor. We love the Bavarian-style drawings on these. Get the tutorial at Lia Griffith.
12
No Place Like Home
String these tiny houses on your mantel, wall, or even your tree. We love how each one looks a little different. The whole neighborhood is invited. Learn how to make them from Lia Griffith.
13
Console Table Display
Fill little baggies with the treat of your choice, fold them over, write the date in white chalk on black paper, and then attach the piecesof paper with a clothes pin. It's the perfect holiday decor for a console table in the entry.
14
Oragami Trees
Each of these geometric paper trees is fulled with treats. Just label them with the date and you've got yourself an advent calendar. Learn how to make them from Tell, Love, and Party.
15
That's A Wrap
How much fun would it be to unwrap these mini presents every day? If every morning can't be Christmas morning, at least the first twenty five days of December can be. Get the tutorial at Mod Podge Rocks.
Sienna Livermore
Contributing Editor
Sienna Livermore is a contributing editor at BestProducts.com and GoodHousekeeping.com covering best-selling products and things you just can't live without; she previously worked at Delish and House Beautiful, writing food news and recipe stories, as well as covering home decor, design trends, and travel guides.
Hadley Mendelsohn
Design Editor
Hadley Mendelsohn is House Beautiful's design editor, and when she's not busy obsessing over all things decor-related, you can find her scouring vintage stores, reading, or stumbling about because she probably lost her glasses again.

Source